YH-6000
SIZER
High-tech sizing machine With high quality and the greatest weaving efficiency
▷ Superior Quality and Great Productivity
▷ Wide Applications
▷ Convenience
▷ Reduction of energy and maintenance cost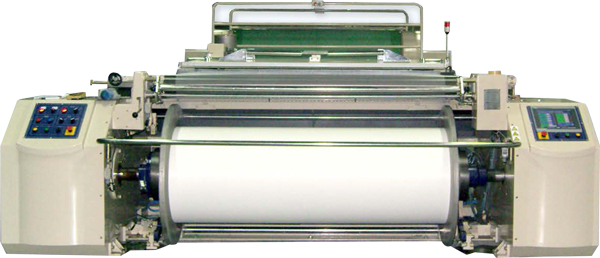 High-pressure squeezing control System
It is possible to automatically control the machine corresponding to the change of yarn speed. It is also useful to control percise tension and attachment and dryness of uniform sized yarns as it is designed with the special roller combining structure and the load is equally conveyed to the right, left, and center. It is designated to precludes overflow and prevents the size liquid from splashing and foaming as well.

SPU(Size Pick-up) Monitor
The SPU(Size Pick-Up) Monitor detects the amount of size liquid consumed in real time from changes in the size liquid level through air pressure, and converts it into size pick-up to be indicated, so that abnormalities can be prevented, making control simple.
---
Cylinder
It is manufactured with a stainless steel plate whose surface is coated with special treatment for the size liquid not to be attached, and the frame is strongly built not to make vibration while operating at a high speed. The automatic control system of temperature helps maintain the optimum temperature of the sheet surface and support the best quality for the condition of temperature control is shown on the touch screen.
---
Dividing rod by formative dew
The sized yarns are equally arranged at the dividing rods which cooling water circles, and the dividing rods making dew splits up the yarn sheet without making dried glue.
---
Waxing
The waxing speed and temperature is automatically controlled by the data preset on the touch panel, so it highly increases the quality and operation efficiency.
---
Take-up
The tension of warp is controlled by an AC servo motor of the let-off/take-up sections which is highly responsive digital system to maintain constant tension by precision control while operating and even at the time of acceleration, deceleration or stop.
---